Batteries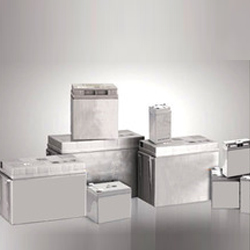 Amaron Quanta
Features :
Long life
Amazing back up
Flawless operation
To cater the variegated requests of our prestigious customers, we are exceedingly engaged in giving an extensive variety of Automotive Batteries. At merchant's end, our offered batteries are unequivocally produced utilizing the best grade parts and present day innovation. The gave batteries are profoundly increased in value by our customers for their augmented reinforcement and long life. These batteries can be profited in diverse mixture of models according to the necessities of the customers.
Specifications :
AH efficiency: Above 90%
WH efficiency: Above 80%
Self-Discharge/Week : < 1% of rated capacity
Recommended Max period of storage: 3 months from the date of dispatch before first use and battery should be stored in a Covered area at 27°C
Material of container: Polypropylene co-polymer
Type of separator: Highly absorbent Micro porous spun glass matrix.(AGM)
Type of +ve & -ve plates: Flat pasted
Life of battery at 27°C: 1150 to 1300 cycles 30 % DOD (OR) 550 to 650 cycles 50 % DOD
Battery Type : Maintenance Free Valve Regulated Lead Acid (MF-VRLA)
Battery Rating: 12V-100 AH to 10.5 EMV @ C20 at 27°C
Manufacturers Cell Designation: 12AL100
Volts/Module: 12 volts
Module dimensions: (441 X 167 X 216) mm. Approx
Module weight: 35 Kg. Approx
Other Details :
It is a Product of world class battery technology produced and tested in Amara Raja's premier VRLA manufacturing facility, supported by technology expertise from alliance partner Johnson Control Inc.
A market leader in just 10 years, Amaron Quanta is a preferred 12V VRLA SMF battery brand by most of India's reputed UPS manufacturers and customers across various segments like Banks, IT Companies, BPOs, Industries, Government Departments, Hospital, and Education Institutes etc.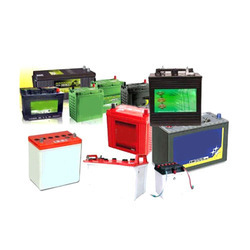 Exide Battery
Features :
Rugged construction
Different specifications
Free from defects
Our venture is in the association of noticeable firms, included in supplying and circulating a wide extent of Tubular Battery. These batteries are produced and composed under the supervision of earnest experts utilizing amazing lead acetic acid derivation and cadmium. All the batteries offered by us are generally utilized as a part of corporate and private divisions. Further, customers can profit these items from us in different sizes and different details according to the need of our profitable customers.
Specifications :
Voltage(Volts): 12-50
Capacity Ah@ 20hr: 7.2-200
Weight(kas)(+5%): 2.2-62
Other Details :
Exide's Powersafe VRLA batteries are a superior range of products that provide ideal back-up power for UPS systems
Tubular batteries use a special technology by which the active material is encapsulated in polyester tubes to prevent 'shedding'.
These types of batteries are recommended for back up power for UPS where environmental conditions are tough and high ambient temperature are common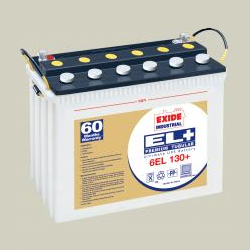 6ELF Range - Flat Plate Design
Applications:
UPS System.
Telecommunication Systems.
Office Automation Equipment.
Fire Alarm and Security Systems.
Electronic PABX Systems.
Cable Television Equipment.
Electronic Attendance and Cash Registers.
Process Instrumentation and Control.
Railway Signalling.
Power Plants and Substations.
Cellular Phones and Pagers (Base Stations and Transmitters).
Geophysical Equipment.
PCO Monitors (Electronic)
Benefits:
The designed float life of Exide EL+ extends well beyond 5 years and on an average 8-10 years of EL+ Range.
The cyclic life of EL+ is also very high to the tune of 1200 cycles at 80% depth of discharge.
The low antimony content of the spines ensures a very low self discharge loss of the order of 1% of the 10 hour rate capacity per week at 25.
The combination of low antimony alloy and ceramic vent plug keeps the water addition requirement very low. A topping up frequency of once in 6-9 months can easily be achieved in normal operating conditions.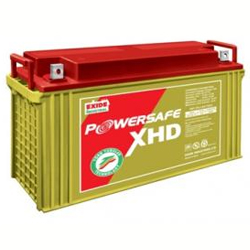 Exide Powersafe – AGM VRLA
Applications:
UPS system.
Process Instrumentation and control.
Office automation equipments.
EPABX system.
Electronic attendance and Cash register.
Fire alarm and Security systems.
Features:
Maintenance Free – No topping up ever.
Capable for deep cycling.
No acid stratification.
Supplied factory charged – ready to use.
Designed for long life.
Compatible to CC-CV charging.
Deep discharge protected technology.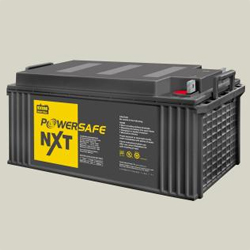 Exide Powersafe NXT
After 10 years of experience in VRL with Shin Kobe, Exide has finally launched new Exide Powersafe NXT with the cycle life unmatched with competition nationally and internationally with its unique feature of 5 hours quick recharge option.
Features:
Deep cycle application.
Fast recovery from deep recharge.
Extended cycle life.
Fast recharge capability.
Excellent charge retention.
International size.
Free from orientation constraints.
Eco – friendly.