Delta UPS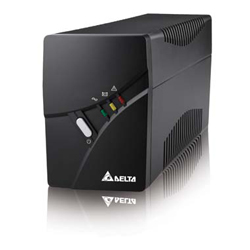 Delta UPS–Agilon Family
VX Series, Single Phase - 600VA
The Agilon VX line-interactive UPS is a best value product designed for PCs,laptops, and POS equipment used in home offices and small businesses. Friendly LED indicators display real-time power and UPS status that users can see in a glance. Automatic voltage regulation (AVR) ensures all electronics are receiving stable power while providing higher availability. Even under severe power conditions, the wide input voltage range of the Agilon VX can adapt and reduce the probability of using the battery.
Features
Wide input voltage range reduces battery discharging occurrence and prolongs battery lifetime.
Automatic voltage regulation (AVR) delivers stable voltage and provides higher availability.
Smart charger shortens battery recharging time.
Battery-start function when utility power is not present.
UPS is able to restart automatically while utility power is recovering.
Automatic battery charging in off mode.
LED indicators provide the UPS status at a glance.
Audible alarms provide indication of UPS and utility power conditions.
Automatic self-test ensures the battery condition.
Provide 24/7 protection from surge, lightning and other power events.
Equipped with network line RJ45 surge protection.
Overload and over-charge protection.
Surge protection outlet for less-essential equipment.
Well-designed microprocessor control provides higher reliability.
BROCHURE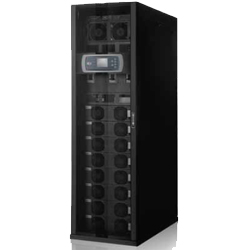 Ultron Online UPS System (Three Phase)
DPH Series, Three Phase - 25-75 / 150 / 200 kW
The Modulon DPH supports ultimate availability for datacenter operations and provides the benefit of "pay as you go" without over-sizing the UPS. While achieving ultimate availability, the Modulon DPH does not compromise on power efficiency performance. When availability, efficiency and expanding according to business needs are essential, the Modulon DPH is the ideal UPS system to provide power protection and total cost of ownership (TCO) savings.
Features
Advanced fault tolerance design achieved by self redundancy to guarantee operation continuity
Self-synchronization of power and control modules for continuous on-line operation even in the event of control module failure to avoid downtime caused by single point failure
Hot-swappable key modules and components to ensure Mean Time To Repair (MTTR) close to zero without downtime risk
Vertical expansion from 25kW to 75/150/200kW supporting N+X redundancy in a single rack enclosure to save footprint
Parallel expansion up to four units without requiring additional hardware
Optional Rack-Mount PDC (applicable for 75/150kW models) has flexibility to arrange its UPS's output power feeding according to its connected critical loads.
Optional built-in battery modules (applicable for 75kW models) at maximum four units (four battery trays each)
Full rated power (kVA=kW) to maximize power availability
High operating efficiency of 95% at 30% light load and 96% from 50% load resulting in marked energy cost savings
Low harmonic pollution (iTHD < 3%) to reduce upstream investment costs and meet demanding power requirements
Built-in manual bypass features to eliminate maintenance-related downtime
Proactive detection of fan failure and switch fault for early diagnosis on UPS malfunction
Plug and play modularity to simplify the maintenance process
BROCHURE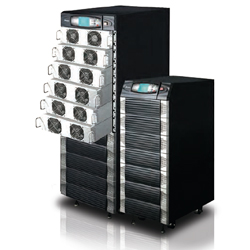 Ultron Online UPS System (Three Phase)
NH Plus Series, Three Phase - 20-120 kVA
The Modulon NH Plus series is Delta's next generation UPS featuring high efficiency, hot-swappable modular structure and N+X redundancy. With its industry leading 94% high efficiency, the NH Plus series delivers remarkably low total cost of ownership in terms of both capital expense and operating expense. With N+X module and system redundancy to guarantee reliability and availability, the Modulon NH Plus series sets a new milestone for UPS protection in mission critical applications.
Features
Available from 20-480kVA (4units X 120kVA in parallel.)
Redundancy at module and system level
Hot-swappable function ensures uninterrupted operations during maintenance
Redundant auxiliary power & control circuit ensurres higher reliability.
Inbuilt maintenance & static bypass switch
Modular design provides easy maintenance and scalability
Multi-Language LCD Display & LED Status indicators
Two smart slots & six programmable dry contact outputs
Optional External battery cabinet for longer backup time
Low Harmonic Distortion (iTHD < 3% ) Optimized generator size to save initial investment
High Input and Output power factor (I/P pf >0.99; O/P pf upto 0.9) and 94% high efficiency reduce operating costs
BROCHURE