Numeric UPS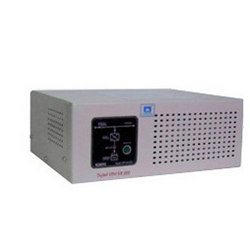 Digital HPH HR Series – 800Va - 7.5Kva
Applications :
Lights
Fan
Televisions
Audio visual equipments
Home appliances and Air conditioners
Salient Features :
Pure Sine Wave output
Advanced Microprocessor based design
5 Stage Constant Current Charger
Fast Action AC Synchronized Transfer Switch
Cold Start
Input & Output Isolated
Auto temperature controlled cooling Fan
Output short circuit Protection
Over Temperature Protection
Input High / Low Voltage Protection
Low battery alarm / Low battery shut-down
Over Load Protection
Compatibility with DG sets
User-replaceable battery
Generator Compatibility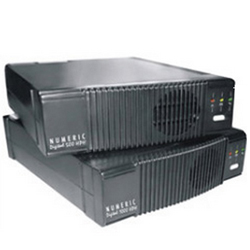 Digital HPH Series – 500Va – 2Kva
Applications :
Salient Features :
Microprocessor based design
Automatic line-to-battery switch over
Intelligent 2 Stage Charger
High efficiency DC – AC conversion
Over load protection
Auto restart
Auto by pass
Compact design
Compatible with SMF /Tubular Batteries
Generator Compatibility
Line Interactive UPS System
5 Series – 600VA to 1Kva UPS System
The numeric Line Interactive UPS affordably protects critial applications from downtime, data loss and corruption caused by power fluctuations and outages.
With built-in Double Boost and Buck Automatic Voltage Regulation, it is perfect for areas where the supply voltage is constantly unstable.
Designed for IT applications requiring standard power backup time, it features a microprocessor controller for managing power.
Product Snapshot :
Power Rating : 600VA to 1Kva
Configuration : Tower
Voltage : 230V
Frequency : 50Hz
Technology : High frequency line-interactive
BROCHURE
Digital HP Max Series - 1Kva –3Kva
Salient Features :
Advanced DSP Controlled UPS System
SPWM Technology with IGBT's
Wide input voltage range
Input THDi < 5%
True galvanic isolation design(Optional)
High efficiency
Compact design to suit the interiors
Modular design for easy maintenance
High MTBF and minimum MTTR
SNMP interface – web enabled monitoring
Full function LCD display to monitor electrical parameters
Compliance to International standards
Applications :
Networks
Servers
PC's
ATMs
Printers
Telecom equipments
Communication equipments
PLC's Access control
Fire protection
BMS
Digital HP Max Series - 5Kva – 20Kva
Salient Features :
IGBT Rectifier
High Power Density – Output PF 0.9
Active Power Factor Correction
High Input PF > 0.99
Input THDi < 5%
Utility frequency independent
Pure Sine Wave output
Wide Input Voltage range
Full time EMI/RFI suppression
High Efficiency > 93%
Cold start capability
Full function LCD Display to monitor electrical parameters
Smart battery management
Generator Compatibility
Galvanic Isolation option
Compact Design, Small footprint
User Friendly features
SNMP Interface – Web enabled monitoring
Custom built – Long backup Models
Parallel Redundant configuration
Compliance to International standards
Applications :
Internet Servers
VSAT Communication Networks & Switching Equipment
Networks
Process Control
Telecom
Critical applications as life saving medical applications
Digital HP E Series - 20Kva – 60Kva
Salient Features :
DSP controller based design
Pure Sine Wave output
Wide Input Voltage Range
High Input Power Factor
Full time EMI/RFI suppression
High Efficiency
Cold start capability
PC Interface and advanced power monitoring software
Smart battery management
Generator Compatibility
Galvanic Isolation
Compact Design, Small footprint
User Friendly features
SNMP Interface – Web enabled monitoring
Custom built –Long backup Models
Parallel Redundant configuration
Full Function LCD Display to monitor electrical parameters
Compliance to International standards
Applications :
Networks
Servers
PC's
ATMs
Printers
Telecom equipments
Communication equipments
PLC's Access control
Fire protection
BMS
Digital HP L Series - 1Kva – 120Kva
Applications :
LAN / WAN Networks
Servers
PCs
Telecom
Medical equipments
Emergency devices
Process Industries
Salient Features :
Small Foot Print
Microprocessor based design
True on-line double conversion
High frequency SPWM design
IGBT inverter
Inbuilt galvanic isolation transformer
Protection from spikes, RFI, EMI etc.
Constant voltage & frequency
High Efficiency
Proven Performance
Extended Battery Back-up
RS232 Com. Port
SNMP Interface (Optional)
Wide Input Voltage Range
Programmable power walk-in
Manual / Static Bypass Switches
Coldstart Compatability
Reliability, Safety & Security
HPE I 33 Series – 10Kva – 120Kva
Salient Features :
Advanced DSP controlled SPWM technology
True Galvanic Isolation Transformer design
ECO Mode and EPO function as standard
Intelligent Fan Speed Control System
Redundant power supply with dual input
DC Cold Start Feature as standard
Applications :
Networks Servers
Data Centres
Telecom equipments
Communication equipments
Industrial PLC's
Industrial Processes
e-Business
Emergency Devices
HPE I 33 Series - 100Kva – 500Kva
Salient Features :
True Online Double conversion UPS Systems
Flexible and adaptable
Advanced IGBT Rectifier
High Efficiency up to 94% for On-line mode and up to 98% for ECO Mode
Compact footprint
In-built Galvanic Isolation
Parallel System Joiner
Online, ECO and Intelligent modes of operation
Energy Saving feature as standard
Applications :
Networks Servers
Data Centres
Telecom equipments
Communication equipments
Industrial PLC's
Industrial Processes
e-Business
Emergency Devices
HPE FS Series – 10Kva - 80Kva
Salient Features :
Advanced DSP controlled SPWM technology with IGBTs
True Galvanic Isolation Transformer design
ECO Mode and EPO function as standard
Intelligent Fan Speed Control system
Redundant power supply with dual input
DC Cold start feature as standard
Applications :
Networks Servers
Data Centres
Telecom equipments
Communication equipments
Industrial PLC's
Industrial Processes
e-Business
Emergency Devices
HPE FS Series – 100 – 800kVA
Salient Features :
Advanced DSP / Microprocessor controlled
Wide input voltage range
High input power factor
Inbuilt Galvanic Isolation Transformer
High efficiency
Compact design for easy maintenance
Modular design for easy maintenance
SNMP interface
Web enabled monitoring
Parallel redundant configuration
Intelligent, safe and unique battery management system
Applications :
Networks Servers
Data Centres
Telecom equipments
Communication equipments
Industrial PLC's
Industrial Processes
e-Business
Emergency Devices
Medical Equipments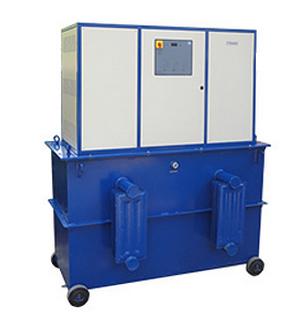 Volt Safe – 1Kva -2000Kva
Applications :
CNC Machines
Medical equipments Shopping Malls
Lifts
Process Industries
Residential and commercial
Educational Institutions
Electrical appliances
Textile Industries
Salient Features :
High Efficiency
No wave form Distortion
Speed of correction up to 35 V /Sec
Response time < 20Sec
Immune to Load PF & supply frequency variations
Power loss – 2% Max
Duty Cycle continuous
Very High Reliability
Easy & Simple maintenance
Compliance to International Standards